Ship's Log 05.08.2013
REVIEWS AND A GIVEAWAY!!!
This be yer last day to enter, Mateys!!!!!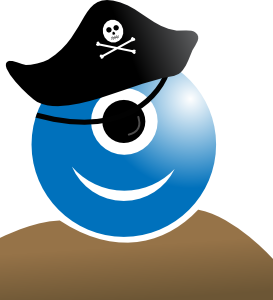 Ahoy Mateys! It be time fer another I SPY WIT' ME LITTLE EYE post. Today I be showin' ye 3 of me Cap'n MaryLu Tyndall's books. They be from her Charles Towne Belles series. So come aboard, sit yerself down, have some grog and learn about some fantastic tales.
The first book in the series be
Faith Westcott is a lady by day and a pirate by night. Can she garner the riches she so desperately needs before her secret is revealed? Captain Dajon Waite is determined to catch the fiery redhead who has been pillaging the Carolina coast. When Faith invites his courtship, she hopes his infatuation will shield her true identity and keep other suitors at bay. Can the love of a godly captain win her heart, or will she be forced to marry Sir Wilhelm Carteret, a man obsessed with taking her to wife?
Here be a little excerpt:
After checking the pistol that was stuffed in the sash of her gown and the one strapped to her calf, Faith sauntered to the railing to get a better look at her latest victim, a sleek, two-masted brigantine. The orange, white, and blue of the Dutch flag fluttered from her mizzen. A very nice prize, indeed. One that would bring her even closer to winning the private war she waged--a war for the survival of her and her sisters.
(And that's just from the first chapter!)
Here be me review:
This novel was so enjoyable. I mean, come on, a lady pirate! You will fall in love with Faith and Dajon. Their story is so bold and wonderful, you will feel like you are right there with them. Come along on the adventure of a lifetime! See God's power move in the lives of two unsuspecting people. This is part of a trilogy, so be prepared to buy two more novels after this one. You won't be able to stop yourself!
The second book in the series be
The Blue Enchantress
Trying to forget about a painful past, Hope Westcott plunges into Charles Towne society trying to find love and acceptance. Captain Nathaniel Mason is determined to build his shipping business and doesn't need a romantic entanglement especially with a woman like Hope. When Hope's adventure-seeking puts her freedom and her life in jeopardy, will Nathaniel turn his back or follow God s voice and sacrifice everything to save her?
"This is a hurricane, sir. I've been in one before. It is the only way to break free of it."
"Coward. 'Tis but a squall. I know what I am doing." Captain Conway bellowed into Nathaniel's face, rum heavy on his breath. "A storm like this took my first wife from me. But I'll not let it get the best of me again!" He shrieked, a sinister, depraved laugh like a man just escaped from an asylum.
Nathaniel's heart stopped as the realization struck him that the captain had gone mad.
(Intriguing, isn't it Mateys?)
Here be me review:
I just finished reading this novel for the second time. If you enjoy historical Christian romance novels, this one will not disappoint. The continuing story from The Red Siren, The Blue Enchantress takes you on another adventure on the high seas. You will find yourself totally enthralled in this story. Follow Hope Westcott as the Lord works H
is wonders in her life. As you may know, this is Book Two in a trilogy, so you must buy the third!
The last and certainly not least in the series be
And here be it's description:
Grace Westcott has piously served God her whole life. Captain Rafe Dubois cannot pass up the opportunity to earn more gold toward the hospital he's building for the poor by kidnapping Admiral Westcott's youngest daughter. But when the missionary and the mercenary meet, it's full-sail-ahead into tumultuous waters! Find out what happens when a bitter mercenary who's sworn off God falls in love with a pious woman determined to change him.
Her eyes darted up and down the street as she went, seeking a hiding place. Heart pounding, she leapt up a span of stairs, barreled through an open door, and dashed across a dim room before she realized she'd entered a tavern. The stench of rum and moist wood assailed her as she sped past a group of men, tripped over a chair, and landed face-first in a sticky puddle on the floor. As if in final salute to her stupidity, her hat tumbled off and landed beside her head, spilling her matted hair into the slop.
(Haha, don't ye be wantin' to read more?)
And finally, here be me review:
Book three in the Charles Towne Belles series. Each novel deals with a different sister and her adventures that lead to romance and grace. The Raven Saint is about a young lady who has lived her life serving God. When she gets kidnapped, she is faced with questions and fears that she never faced before in her life. This novel has all of the wonderful traits that the first two novels had. The only bad thing is that there are only three novels, when another sister has been mentioned on occasion. I would love to hear her story as well. If you haven't read MaryLu Tyndall's other novels, you need to check them out. She never disappoints. She follows God's lead in each and every novel.
Alrighty Mateys! There ye have it! A trilogy ye can sink yer teeth into...and it be a meal that be stayin' wit' ye fer a long, long time!
And here be some great news, Mateys! MaryLu's trilogy can be bought in a 3-in-1 book! You can check it out here:
If ye be wantin' separate books, these sites should be havin' them as well.
OKAY, NOW FER ME GIVEAWAY.....
I BE A SNEAKY CHAPLAIN, BECAUSE I NOT BE TELLIN' YE
WHAT THE GIVEAWAY BE....YE HAVE TO WAIT
UNTIL I BE DOIN' THE DRAWIN' MATEYS!!!
HERE IS WHAT YE NEED TO BE DOIN' TO ENTER. JUST
LEAVE A COMMENT
TELLIN' ME YER
FAVORITE BIBLE VERSE
. THAT BE ALL! AND DO NOT BE FORGETTIN' TO PUT YER
NAME
AND
EMAIL ADDRESS
AS WELL!!! GOOD LUCK MATEYS!!!
THIS CONTEST WILL END ON WEDNESDAY, MAY 8TH (MIDNIGHT PACIFIC TIME). THE WINNER AND PRIZE WILL BE ANNOUNCED ON FRIDAY, MAY 10TH.
I almost be forgettin' to put me favorite verse. It be
The Golden Rule
:
Therefore all things whatsoever ye would that men should do to you, do ye even so to them: for this is the law and the prophets. Matt. 7:12
Well that be all fer this I SPY WIT' ME LITTLE EYE !!! Thank ye fer stoppin' by, Mateys! God bless!