Ships' Log 05.10.2013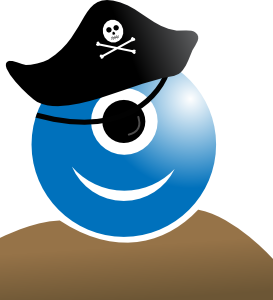 Ahoy Mateys! We be havin' a winner! Once again, Pirate Lucas be helpin' me out. There were 5 entrants in the drawin', so I put the names on slips of paper, folded each one and put some tape on them. I then proceeded to place them on Pirate Lucas' face. Now that ye be caught up, here be this week's video:
(Oh, and I noticed when I listened to this video that every time I pronounce a word with the letter 's' in it, I sound really funny. I don't sound like that in person, honest! LOL Sounds like I have dentures that be slippin'...oh well, homemade videos aren't perfect, but they can be pretty funny!)
Congratulations to the winner! Here be yer prize:
Candies, a cross to be hangin' in yer house and a book
of every word Jesus said in the Bible.
As ye be seein' from the video, I didn't need to be goin' too far to deliver me prize. This be why I video tape me drawin's, so that ye can be seein' that they be fair. Even though Pirate Lucas' mommy won, he had no idea which paper had her name on it.
Thank ye fer comin' aboard Mateys! Come back tomorrow fer another I SPY WIT' ME LITTLE EYE post and another giveaway!!!! God bless!