Ship's Log 03.23.2013
Ahoy Mateys..This be I SPY WIT' ME LITTLE EYE Saturday...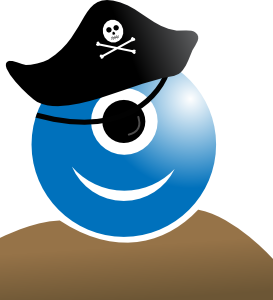 Today I have two books I wish to share wit' ye all! Here we go!
Description:
Underwater archaeologist Shiloh Blake is consumed with passion for the water and inflamed at the injustices of life. When her first large-scale dig traps her in the middle of an international nuclear arms clash, she flees for her life. When she spots a man trailing her, the questions are, Who is he? and How is he always one step ahead? Reece Jaxon is a former Navy SEAL and now serves his country as a spy. His life is entangled by the beguiling Shiloh Blake as he hunts down the sources to a nuclear dead drop in the Arabian Sea near Mumbai, India. The only way to end this nightmare and prevent a nuclear meltdown is to join forces with Reece. Will Shiloh violate her vow to never become a spy?
*******
May I just say, Bravo Ronie!
This story has so many twists and angles, that I guarantee you will never get bored. Just when you think the story is about to slow down....BAM....you get hit by a new 'Wow' moment. While reading this story, I found myself so enthralled by all that Shiloh Blake had to go through, I realized that I was actually holding my breath at times. The characters are so intriguing, especially Shiloh and Reece (or should I say Brutus? Haha).
This was actually the first full length novel I read by Ronie and it certainly wasn't the last. If you enjoy 'edge of your seat' adventures, 'Dead Reckoning' should be on your reading list.
Prepare to hold your breath......yes, it is indeed a breathtaking adventure!
You can purchase this book here:
A Simple Winter
by Rosalind Lauer
Description:
THE PROMISE OF A HOME,
THE HEARTBREAK OF AN IMPOSSIBLE LOVE
As a budding journalist with a major newspaper, Remy McCallister is eager to prove herself. While investigating an unsolved crime, Remy winds up in the tightly woven Amish community of Lancaster County, the last place she would ever expect to find herself. The story leads her to Adam King and his ten younger siblings, who are trying to sustain their warm, loving home in the wake of the murder of their parents. Although Remy tries to remain professional, she is captivated by the Kings. With her own mother gone and her father disengaged from their relationship, Remy longs for a home and a family just like that of these good, simple people.
Suddenly patriarch of his large family, Adam struggles to do the right thing for his siblings, his community, and his God. He neither wants nor needs the complications that spirited Remy brings. But as much as he tries to push her away, even as he counts all the ways this lovely outsider cannot possibly remain in his world—or in his heart—the wondrous light she shines upon his troubled soul cannot be denied. Adam can only pray for the strength and the faith to get this Englisher girl out of their lives for good.
Snowbound with the Kings, Remy experiences the wonder and the chores of a simple winter among the Plain People, as well as the friendship of their warm community. When her peaceful interlude ends, does she dare to reveal a killer in their midst, knowing that she may lose the love of this special family and this remarkable man?
*****
My Review:
"Forgiveness is like a three-pronged fork. There's forgiveness from the person you wronged. Forgiveness from God. And then, you've got to forgive yourself."
This quote from the book tells it all. This is a lovely story about love and forgiveness. I admit that I really haven't read many books about the Amish, but this book makes me want to read more about them. A simple life, yet a hard life......
Rosalind Lauer did a wonderful job bringing her characters to life. I felt the hurt, the love, the warmth of the King home.......so inviting. Adam and Remy's story is one that will stay with you for a long time; the whole King family will stir up emotions inside you.
I encourage you to read this book if you are struggling with hurt and forgiveness. Or if you simply want to steal away to a simpler way of life and enjoy watching the King story unfold. Guaranteed to please, no matter the reason for reading it.
I give it a big thumb's up!
You can purchase this book here:
Now, I would have loved to share a few paragraphs from these novels with you, but I lost my ebook copy of Dead Reckoning when I switched to my Kindle Fire and I gave away my copy of A Simple Winter to someone else to enjoy. But, you can take my word for it, they are both very well written and exciting in their own way.
So, there ye have it, two more books to sink yer teeth into, Mateys!
Thanks for stopping by....Happy Reading and God bless!