Ship's Log 02.23.2013
Ahoy Mateys..This be I SPY WIT' ME LITTLE EYE Saturday...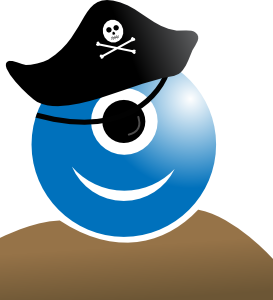 Each Saturday, I will be posting a review, or two, or three.....of books I have read . If I miss a Saturday here and there, don't make me walk the plank, it just means I simply forgot. Hey, never claimed to have a good memory.
Let's start this off with a book I read this past week.
UNDERCURRENT by Michelle Griep
Here is a brief description :
Professor Cassie Larson leads a life her undergrad students hope to attain, until she tumbles into the North Sea and is sucked down into a swirling vortex...and a different century. Alarik, son of a Viking chieftain, is blamed for a murder he didn't commit-or did he? He can't remember. On the run, saving a half-drowned foreign woman wasn't in his plan. Ragnar is a converted pagan shunned by many but determined to prove his Cousin Alarik's innocence. He didn't count on falling in love with Cassie or the deadly presence of evil that threatens his village in Alarik's absence.
My review of Undercurrent by Michelle Griep
My oh my, what a wild ride . Vikings here, Vikings there, Vikings everywhere.. This book is indeed an adventure to behold. From the moment Cassie got thrown into this other world, I found myself wondering how she was ever going to survive. I had no idea of the Viking ways and I care not to experience it myself. Michelle did a fantastic job with her descriptions of the people and places. There is so much action from beginning to end, I found myself completely exhausted by the time I finished reading it....a good exhaustion...
I have pulled a few passages from the book to perhaps peak your interest enough to pick up a copy for yourself.
Packing crates crushed to splinters behind her.
She shoved over the bucket and tore ahead. The alley opened onto another road soon. A busy street would surely provide more hiding opportunities than this worthless passage had offered.
Her arm dripped blood, her hair smelled like puke, and a cramp pinched her side with lobster claws, but she wouldn't let any of that slow her. She bolted forward, leaving the alley behind.
And ran headlong into the snare of a man's viselike arms. (Page 125)
**********
So be it. More than once his feet gave way as he returned up the rise. He'd pitch forward, only to right himself for a step or two, then lose balance again. The freezing rain pelted against him as if archers loosed thousands of icy arrows. Cold and strain trembled through him. Sweet Jesu, if he struggled this much on solid ground, how much more did Cassie on a crumbling ledge?
Conceding to the gale's advantage, he abandoned his upright battle and dropped to all fours, clawing his way to the cliff's edge. "Cassie?"
Hard enough to see in the dark, but the downpour made it worse.
"Cassie!"
Lightning exploded. Intense white lit the cliff brighter than day. No ledge remained where she had stood.
"Nooo!" His cry reverberated with the next roll of thunder. (Page 166)
And if those aren't enough to get you, how about this:
And with no time to spare. Larger than a wolf, bigger than a man, a demon creature rushed at him. A misshapen muzzle with fangs impossibly sharpened aimed at him. Dead, glossy eyes trained on his own. This close, the sight of the thing drained his courage.
The overgrown wolf reared on hind legs, revealing surprisingly naked innards. Shaken by the milky-white flesh beneath the fur, Ragnar froze.
(Page 277)
I wish to thank Michelle Griep for giving me the opportunity to win her book, so that I could read and review it.
You can buy a copy of this book at Amazon.com with the link below:
I encourage you to visit Michelle's blog, she has some great things to say and you don't want to miss her Fun Friday videos.....here is what she has to say about herself:
I hear voices. Loud. Incessant. And very real. Which basically gives me two options: choke back massive amounts of Prozac or write fiction. I chose the latter. Way cheaper. I've been writing since I discovered blank wall space and Crayolas. I seek to glorify God in all that I write...except for that graffiti phase I went through as a teenager. Oops. Did I say that out loud?
Check out her blog here :
Thank you for reading my review. Please join me again and feel free to comment below. God bless.