Ship's Log 07.15.2013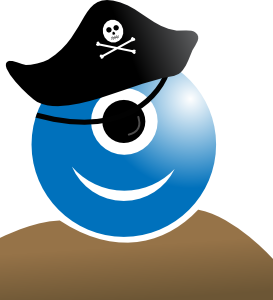 Ahoy Mateys! It be time again fer me I SPY WIT' ME LITTLE EYE post. Today I be sharin' a great book wit' ye
. It be written by a great lady and author, Michelle Griep.
From Michelle's website....her words:
Dare I be so bold as to call myself an author? Being that I'm one of those freaks who attended poetry workshops instead of summer camp during my formative years, yes, I will. While other teens busied themselves throwing parties when their parents weren't home, I was the nerd holed up in my room with pen and paper.
Relatives. Can't shoot 'em. It's against the law, although I bet my husband and four children have been tempted now and again to put me in their crosshairs. I'm a wife of twenty-something years and mother of two sons and two daughters. And yes, it's true…boys are way easier than girls, unless drama is something you crave.
An Anti-Establishment Rabblerouser
I am one of those library-card wielding, mini-van driving, let's-take-a-jaunt-to-the-grocery-store and call it a field trip kind of homeschoolers. But allow me this disclaimer: I don't wear denim jumpers, and I farm out anything related to science or math. Bonus disclaimer: The last of my nestlings has flown the homeschooling nest, but I continue to tutor writing and history at a local high school homeschool co-op. You can read some of my views on homeschooling at:
http://www.crosswalk.com/homeschool/1349201/
No, I'm not currently on medication for delusions of grandeur. I am a daughter of a King. Seriously. I take the Bible as inspired truth and that's what it says (Romans 8:16, 17).
I'm not talking Fruit of the Loom vs. Hanes. I'm talking stubby-tailed, fuzzy muzzled, bundles of face-licking love. As the great philosopher Groucho Marx once said, "Outside of a dog, a book is man's best friend. Inside of a dog it's too dark to read." Click
here
to see photos of my current canine companion
.
What's the deal with me and Great Britain? Beats me. I'm as passionate about anything English as I am about chocolate and java. Oddly enough, I prefer Bronte over Austen, and if you'd like to debate the qualities of Typhoo versus PG Tips, feel free to e-mail me.
As a matter of fact, that was me squirreled away in the backseat of the school bus with my nose plastered in a Bradbury book. Throughout junior high, I escaped classmate alien abductions by reading Asimov, Vonnegut and Wells. And I'm doggone pleased to be living in the same metro area as
Uncle Hugo's Science Fiction Bookstore

.
Sorry, I did not graduate from the Cordon Bleu. I didn't even cough up the cash to attend. I am, however, a veteran of once-a-month cooking, and you can be, too. Check out
Once A Month Cooking.
Also, if you'd like to email me, I'll send you my favorite brownie recipe. Just go to my contact page and gimme a holler.
Michelle puts a smile on my face every time I visit her blog. I truly enjoy her writing and I know you will too.
To get to know her a little better.....Here are a few questions she was nice enough to answer for me:
Question One: When did you realize that you wanted to be a writer?
When I discovered Crayolas and blank wall space. Seriously. Ask my mom. There was a season, however,
when I kicked around the idea of becoming an astronaut. Two problems with that, though. First off, I hate science and math, both of which are slightly necessary to succeed in an aerospace career. Secondly, it was a total deal breaker when I found out that astronauts don't actually wear cool
Lt. Uhura
uniforms.
Question Two: When you sit down with a good book, what genre do you prefer? Any favorite authors you can recommend? (I know that's two questions)
I love me a good historical romance with dark undertones…hence my love for Jane Eyre. But honestly, there's really not a genre I won't read, and I also have a definite bent toward YA and sci fi. Go figure.
If you're looking for a fantastic British historical, there's a debut author coming out this fall that I'm SUPER excited for the world to discover.
Jessica Dotta
is her name. Her series is The Price of Privilege and the first book is
Born of Persuasion
(which you can already pre-order).
Question Three: Your blog is very entertaining, you are a very funny lady. Did you find it difficult curbing that humor while writing the darker parts of A Heart Deceived?
Not hard at all. Guess I'm a creeper at heart, eh? Actually, I've been through some very dark times in my own life—as we all have. As tough as they are, that's when God shines the brightest. I want people to know that He can and does show up when you think you have no hope left.
Question Four: I feel like this book could easily have a sequel. Did that thought ever enter your mind, or do you feel like you wrapped everything up with nowhere else to go?
Aack! I wish you were my publisher! I do have books 2 & 3 already mapped out, and even started writing book 2. Yes, there is indeed more to say about these characters, but for whatever reason, my publisher has declined my sweet offer to get them in print. Such is the industry. But (and I've always got a big but)…that doesn't mean I can't self-pub them (cue evil laughter).
Question Five: One final question....If you could live the life of ANY character from ANY book, who would you choose and why?
Don't even have to think about this one. Cassie Larson from
UNDERCURRENT
. Who wouldn't want to live with Ragnar?
Don't you just LOVE her answers? Michelle is such a pleasure......make sure you visit her blog, especially on her Fun Fridays! Her videos will put a smile on your face.
Now, on to the book!
A Heart Deceived
Before I share my review of A Heart Deceived, here is a description of the book:
Miri Brayden teeters on a razor's edge between placating and enraging her brother, whom she depends upon for support. Yet if his anger is unleashed, so is his madness. Miri must keep his descent into lunacy a secret, or he'll be committed to an asylum—and she'll be sent to the poorhouse.
Ethan Goodwin has been on the run all of his life—from family, from the law ... from God. After a heart-changing encounter with the gritty Reverand John Newton, Ethan would like nothing more than to become a man of integrity—an impossible feat for an opium addict charged with murder.
When Ethan shows up on Miri's doorstep, her balancing act falls to pieces. Both Ethan and Miri are caught in a web of lies and deceit—fallacies that land Ethan in prison and Miri in the asylum with her brother. Only the truth will set them free.
Sound good? Here is a little excerpt to whet yer whistle:
"Up you go, maggot. I hope they tie the rope 'specially tight 'round your neck." Mr. Handy put some muscle into heaving him upward, above and beyond what was necessary.
Ethan plunged forward, smacking his chin on the wooden planks of the cart. Behind him, a door clanged shut, followed by a rough "Haw!"
The cart lurched, and Ethan used the momentum to swing into a sitting position. Either it was exceptionally dark in there, or he was about to pass out-possibly both, and either a good thing. "Did you commit murder?"
The question shot out from nowhere and everywhere. Was God in the cart too?
Now that ye have had a taste of this book, here is my review of A Heart Deceived:
After reading Michelle's previous book Undercurrent, I was expecting nothing less than a great read. Well, I was not disappointed. Michelle has definitely stepped it up a bit with this new release. A bit on the darker side, but so intriguing and well written. There is so much going on in A Heart Deceived, you may ask "Will I get lost?" The answer is no! Michelle does an excellent job bringing all the different aspects together and making a perfectly harmonious story…..Murder, addictions, insanity, uncertainty, heartbreak…..add to that, forgiveness, love, compassion and heroism. You will also get a close up look at what went on inside Asylums in those days….so sad.
Best of all, Michelle brings the power of God into her story in a way that will give you goosebumps. I truly think the story ended too soon. I would love to see a sequel to this book. I highly recommend this book to anyone looking for a story that stirs the soul and makes your heart pound.
I received a copy of this book from NetGalley, but was under no obligation to give a positive review.
You can purchase a copy of A Heart Deceived
here
.
GIVEAWAY!!!! I am giving an
ebook
copy of
A Heart Deceived
to one of my commenters. Leave a comment with
your name and email
to be entered. Contest
ends Tuesday
, July 16th at midnight.(Pacific time) I will announce the winner on my Wordless Wednesday With a Twist post.
I wish to thank Michelle for being my guest this week on my blog! Thanks Buddy!
Thanks fer comin' aboard, Mateys! God bless!