Ship's Log 01.11.2014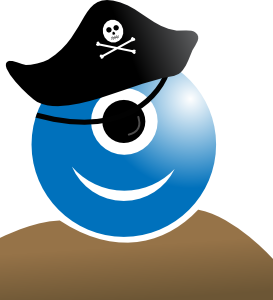 Ahoy Mateys! I know it's been awhile since me last post. I guess ye can say that I went ashore fer a little over a month to rest me weary bones. But, no worries, because Chaplain Debbie is once again at her post and I am ready to read and review books once again! I have four books that I have read already this year. (yes, FOUR!) I am tryin' to step up me readin' a bit....I have some major catchin' up to do. So, without further ado, here be me I SPY WIT' ME LITTLE EYE post.
**********
As I mentioned, I read 4 books, so I will simply introduce them to you along with descriptions, excerpts and my reviews. I will also give you a link to each book, should you wish to read them for yourself. Enjoy!
A Cup of Christmas Cheer
Volumes 1 & 2
By Various Authors
Description:
Twinkling lights, the scents of cinnamon and pine, family gatherings, favorite carols from the heart. In the spirit of these cozy Christmas traditions, Guideposts is pleased to present A Cup of Christmas Cheer, a two-book set brimming with heartwarming fiction stories of faith and family set in Christmases past and present.
You are invited to enjoy two uplifting Christmas fiction collections that will flood you with the Christmas spirit and bring a smile to your face. As you delve into each well-crafted story, you'll be swept away on a wave of glad tidings and good cheer as you are reminded of God's unconditional love and ever-present care at Christmas and all throughout the year.
Excerpt from SNOWED IN by Carrie Fancett Pagels (Volume One)
Fred's stormy eyes fixed on Elsie's. "There's no way Henry can make it out here tonight-the road to town is closed."
"Closed?" Elsie's spine stiffened. She was relying on Henry to take her back to do her shopping and gather more clothes. And to talk with him.
Outside, snow billowed out of the sky.
Excerpt from THE BEST DEAD CHRISTMAS TREE by Linda S. Clare (Volume Two)
That night I stare out the hospital window, scanning for airplanes. If I have to, I'll stare until my eyeballs dry up.
Lights are out on the ward but I sit up in bed. Which lights are stars and which is the plane that holds Grammie and Mom? Airplanes have red lights that blink on and off, I know that much. Stars don't blink. Tonight, they all look the same.
I grip my white Bible until my fingers ache. I looked brave for Grammie and Mom-I don't want them to worry. But now I don't care about Christmas one bit. They can keep all their crummy blue spruce trees.
My Review:
This two book set was such a pleasure to read. Each author created a story that helped me to relive Christmas over and over again. You can look forward to several totally different story lines in these two volumes. They are all short stories with huge messages of hope, love, faithfulness….the list goes on. I highly recommend A Cup of Christmas Cheer no matter what time of year it is. It is an accumulation of feel-good stories that will touch your heart and soul. I look forward to reading them again one day.
(I'd like to thank Carrie Fancett Pagels for sending me my set of A Cup of Christmas Cheer, her story was one of the highlights of Volume 1.)
You can purchase your copies
HERE
.
Jennifer
by Dee Henderson
Description:
It's a summer of change for Jennifer O'Malley. The busy physician has a pediatrics practice in Dallas, and meeting Tom Peterson, and falling in love, is adding a rich layer to her life. She's sorting out how to introduce him to her family--she's the youngest of seven--and thinking about marriage.
She's falling in love with Jesus too, and knows God is good. But that faith is about to be tested in a way she didn't expect, and the results will soon transform her entire family.
Excerpt:
The boy's bandaged hands were healing from second-degree burns and she was determined to not let him land one of his swings. She could feel the adrenaline in the child, fed by fear, anger, and pain. The boy managed to get a foot on the bed and shove it away. The brush of a white coat across her shoulders combined with the whif of perspiration and after-shave as a man reached over and around her to help hold the boy. "Easy, son. What happened?"
My Review:
Small book with a big story.
For those who have read the O'Malley series, this is the prequel to them all. You are going to see all that Jennifer, the youngest O'Malley, went through before the first book in the series, The Negotiator. This was a well made book, short but it answered a lot of questions concerning Jennifer. Warning to those who have yet to read The Negotiator, this book ends where that book begins, so I highly recommend you have The Negotiator handy to pick up and read after reading Jennifer. This book is a love story, yet it is filled with heart wrenching moments that will have your emotions on edge. I admire Jennifer and the career that she chose….not everyone can handle it. God's presence is felt strongly through Jennifer's love interest, Tom. His faith helps Jennifer to face certain circumstances and eventually draws her close to God.
The Heiress of Winterwood
by Sarah E. Ladd
Description:
Amelia Barrett gave her word. Keeping it could cost her everything.
Amelia Barrett, heiress to an estate nestled in the English moors, defies family expectations and promises to raise her dying friend's baby. She'll risk everything to keep her word—even to the point of proposing to the child's father—a sea captain she's never met.
When the child vanishes with little more than an ominous ransom note hinting at her whereabouts, Amelia and Graham are driven to test the boundaries of their love for this little one.
Amelia's detailed plans would normally see her through any trial, but now, desperate and shaken, she's forced to examine her soul and face her one weakness: pride.
Graham's strength and self-control have served him well and earned him much respect, but chasing perfection has kept him a prisoner of his own discipline. And away from the family he has sworn to love and protect.
Both must learn to have faith and relinquish control so they can embrace the future ahead of them.
Excerpt:
Kathrine was going to die. And Amelia could do nothing to prevent it.
Amelia Barrett dabbed at her dearest friend's brow with a damp cloth. A single tear, hot as fire, slipped unchecked down her cheek. Exhaustion pulled at her limbs. Fatigue pleaded with her to sit and rest. But she dared not stop.
My Review:
Captivating story.
Even though the cover of The Heiress of Winterwood caught my attention right away, this book had me hooked from the first page. I love it when authors delve right into the good stuff from the beginning, instead of slowly grabbing your interest.
Amelia Barrett's story is a fascinating one and it keeps your attention throughout the entire book. Sarah Ladd did a great job adding twists here and there…..all the way to the last chapters.
The relationship between Amelia and Graham Sterling proved to be quite the undertaking, with plenty of obstacles to overcome…including personal struggles from the past. Throw in a baby and a kidnapping and you have the makings of a great read!
The Headmistress of Rosemere
by Sarah E. Ladd
Description:
Patience Creighton has devoted her life to running her father's boarding school. But when the enigmatic master of the estate appears at her door, battered and unconscious, the young headmistress suddenly finds her livelihood—and her heart —in the hands of one dangerously handsome gentleman.
At twenty-five, Patience Creighton is already a spinster. The busy headmistress of Rosemere always expected a dashing man to sweep her off her feet and take her away . . . but that man never came. And since her father's death, keeping the school running and her mother happy has been plenty to keep her occupied.
William Sterling dallied his way into financial trouble and mortal danger. When he is assaulted by his creditors' henchmen on the road home from a tavern, he guides his horse to the doorstep of his tenant, the Rosemere School for Young Ladies. After being tended to by Patience, the wounded William rides off into the dawn—but makes a point to learn more about the lovely headmistress.
As he spends more time at Rosemere, something delicate begins to develop between William and Patience. But that will not deter William's creditors. With little money to repay his debts, and less for the upkeep of his estate, it becomes clear that sacrificing Rosemere may be the only way to preserve his legacy. But it may also cost him his happiness.
Excerpt:
"Get off the horse, Sterling."
Pulse hammering, William licked his lips and tugged the reins, circling his frenzied horse, desperate for escape. Every sordid incident that had led to this moment flashed before him in vivid detail. Remorse would do nothing now, not with a pistol pointed straight at his chest.
"I said dismount!"
William lurched around. A third pistol barrel challenged him.
Surrounded.
My Review:
Just like book one in this series, the cover of The Headmistress of Rosemere totally grabbed me. I think that a captivating cover has a great deal to do with the purchase of a book, encouraging a reader to pick it up and read the back cover.
I was intrigued by this storyline and I knew that Sarah would not disappoint in delivering another great book in this series. Again, Sarah jumps right into action with the first chapter, willing me to read more and more. This story isn't as fast paced as book one, The Heiress of Winterwood, but it has it's own fascinating twists and turns, one of which totally caught me off guard. (no worries, I will not spoil it for you)
I believe that you will enjoy William and Patience's story, for it is one of love, patience, faith and courage.
*****************************
Well, there ye have 'em, Mateys! I am currently readin' four more books and will share 'em wit' ye when I be finished readin' 'em.
Thanks fer comin' aboard, Mateys! God bless.